PHOTOS & NOTES
For Moapa Palms Reports
Fossil figure shown below:
The fossil referred to in this report. Notice the lack of visible costa. This could very well simply be a Washingtonia fossil without spines. Such a fossil would not be so remarkable.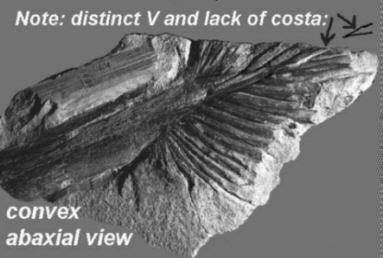 ---
Figures of Washingtonia and Brahea leaves and petioles showing the flat palmate shape of Washingtonia and the folded ribbed costapalmate shape of Brahea.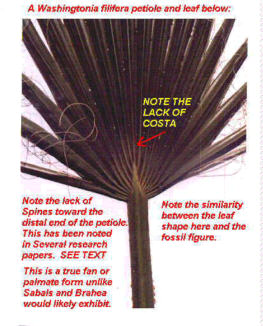 ---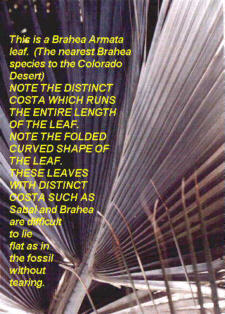 ---
The first photo was taken in 1979 at Blue Point Springs just south of Overton Nevada by the author. Note the numbers. 1 and 2 indicate the persistent leaf bases which still remained on the trees at that time. 3 and 4 indicate the spent fruit spadices which were evident on every tree in this row. 5 is for a comparison of the head of the tree with the trunk for size. These trees were later shown to have been planted by a Mr. Syphus during the "Slim Creek" saga of Blue Point Springs in 1903 almost 100 years previously. Please scroll down to see both photos.
The second photo is of Blue Point springs almost twenty years later. Note the spent fruits spadices at 3 and 4. Also that persistent leaf bases have been removed somewhat. NOTE: a fire in 1996 also further reduced these sometime later than this picture. Note that the height of the middle tree is only slightly larger if anything. One more interesting note: the tree to the far left is closest to the warm water stream and the fact it is part of the line of trees suggests it was planted at the same time. This being the case, it is clear that being right next to this stream has not given an advantage of height to this tree over it's neighbors.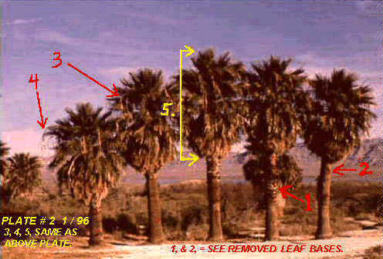 ---
Picture showing 6 foot tall man next to palm at Blue Point Springs (Palm is the one on the far right of photos above). Markings for size reference. The palms are around 10 meters tall from base to crown. (27')
---
Figure showing the absence of spines on a live KING OF ARIZONA (KOFA) juvenile petiole (on the right) photographed against white cardboard with a cut leaf from a similar juvenile W. filifera from Palm Springs. Both trees were about 2 meters tall and both grew in relatively similar shady conditions. Note the spines on the Palm Springs specimen on the left. (The heavier shadow of the Palm Springs specimen is due to my hand holding the petiole away from the cardboard backing.)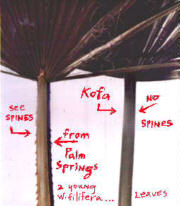 ---


End of Photos
---
---
---
Links to all Reports and Petition:
Specific Articles about Moapas Palms:
11 QUICK FACTS
| 10 PAGE DETAILED REPORT 100 PAGE FULL REPORT |
| PETROGLYPHS & PALMS | PLANT COMPARISONS IN PALM GROVES |
| PHOTOS REGARDING THE ABOVE REPORTS: |

Rebuttals to Articles regarding W. filifera:
| GLOBAL WARMING, NOT RESPONSIBLE FOR PALMS SPREAD! |
| W.FILIFERA: EVIDENCE POINTS TO A RELICT SPECIES!' |

Copyright © 1995 - 2011 Spencer, Winton